back to the overview
Multibanking with Contovista
Defend Your Interface and Establish Yourself as a Main Bank!
Defend Your Interface and Establish Yourself as a Main Bank!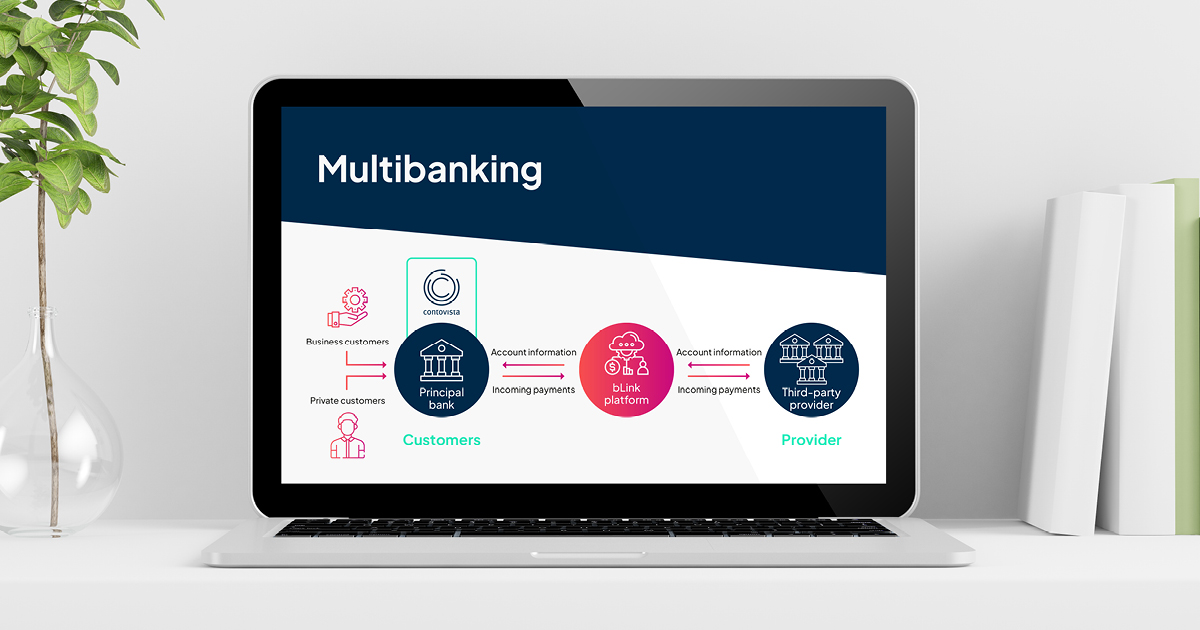 Defend Your Interface and Establish Yourself as a Main Bank!
A single financial cockpit for all banking transactions – including those with other institutions. Multibanking impresses thanks to greater convenience and significant time savings.
For business customers, the success story in Switzerland began a few years ago. Today, multibanking is taking the Swiss retail market by storm. Open Banking serves as the basis for bLink's powerful platform, which can be used to share account information with other institutions. This provides users with a simple overview of their entire financial situation across all banks, thereby improving the functionality of their e-banking. Through retail multibanking, banks stand out from the crowd and can defend their customer interface. At Contovista, we provide the know-how and the necessary technology to ensure easier handling, better clarity, and optimal financial management across all customer accounts.
Multibanking: A Real Win-Win Proposition?
The Swiss Bankers Association regards multibanking as a particularly profitable use case of Open Finance, where "everyone benefits as a result". The advantages are clear for consumers, as they can now get an up-to-date and complete picture of their entire finances on their familiar e-banking platform. This is an offering that is likely to be relevant for the majority of end users. According to a study conducted by the Lucerne University of Applied Sciences and Arts, Swiss people had an average of 2.2 banking relationships in 2020. Just a quarter of the respondents had only one private account.
It goes without saying that there's a great deal of potential in this area. Yet the competition is not sleeping. Banks must act now when it comes to multibanking, otherwise dissatisfied customers will be tempted to migrate to their competitors, e.g., the many neo-banks and challenger banks that have emerged in Switzerland. Against this backdrop, multibanking in the retail sector provides established institutions with excellent leverage to remain or even become customers' principal bank again – as the go-to platform for all financial transactions. At the same time, institutions can help stabilise their profit margins by retaining customers and utilising new, data-driven offerings to realise additional growth potential.
You can find data, facts, and a guide to successful multibanking here
Value-added benefits: Understand.Coach.Enable.
Contovista has long-standing experience with multibanking. We've been implementing multibanking solutions for business customers for some time now, especially in the SME sector, e.g., with Valiant and AKB. Our expertise also helps with implementing multibanking in the Personal Finance Manager (PFM). Thanks to the pioneering bLink solution, banks can now also offer retail customers the crucial added value of multibanking.
Multibanking in the PFM provides customers with a convenient overview of all linked accounts. With the resulting transparency of customers' financial situation, banks can actively facilitate sound financial planning.

The added-value features provide tangible help in everyday life
The personalised dashboard in the PFM offers statistics on income and expenditure as well as corresponding analytics across all linked accounts. Key figures such as "left to spend" and the brand-new overview of recurring expenses and subscriptions such as streaming services, apps and gym memberships help to provide clarity:
Track expenditure: Users can see where their money is going.
Monitor investments: Users can track how their portfolio is performing.
Individual savings goals and flexible budget features help users to manage their finances independently. Semantic search functions with intelligent filters, logos, and pretty names in the transaction overview as well as the enhanced user experience for mobile applications ensure the platform is simple to use. Another plus point for users is that onboarding is extremely fast. Everything happens digitally in a seamless manner with just a few clicks and no paperwork.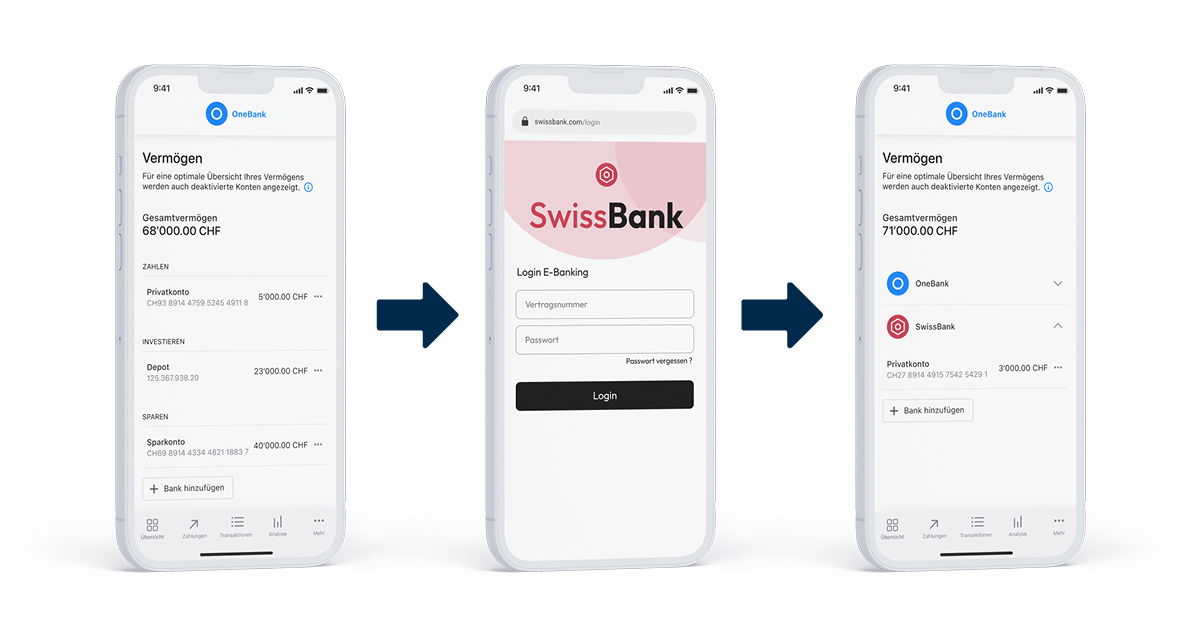 Illustration: adding a third bank connection with just a few clicks.
By offering multibanking in the PFM, banks can strengthen their position as customers' principal bank by proving to be a reliable, personal, and relevant partner – in line with Contovista's philosophy "Understand. Coach. Enable.". In return, it also provides customers with interesting offers and smart tips in the PFM. Enriched transaction data allows banks to give extremely precise personalised recommendations as well as introduce tailored products for cross-selling and up-selling. By accessing information from third-party accounts, the PFM generates a much broader database and increases the precision of the value-added services, strengthening the role as gatekeeper even further. Find out what other features the PFM offers here.
Ready for the Future
All this is just the beginning: the choice of services and products available to multibanking users will continue to grow in the future. In the end, the Open Banking standard aims to build a comprehensive Swiss ecosystem for financial companies and their customers. Third-party providers (TTPs) can offer applications that can be easily used by consumers by opening their account data for a specific purchase – all within the framework of their principal bank's online banking.
This opens the door to the vast world of beyond banking. E-banking can also become a useful control centre for consumers in other areas of life. They receive offers for travel or insurance, rental cars, vouchers, and benefits through bonus and customer loyalty programmes. Thanks to data-driven banking, all of this is individually tailored to their real needs, which means customers do not perceive these things as annoying marketing, but rather as truly relevant support – delivered free of charge by their principal bank.
Discover how to seize the opportunities of the Open Finance movement here.
Welcome to the Ecosystem!
Retail multibanking based on bLink is a crystal-clear opportunity for banks on their journey into the digital future. The course is set for additional products, scalability, services, and providers that customers will soon be able to access. Banks now need to tap into potential for added value and growth. After all, everyone in the ecosystem benefits – and it's easy to participate for customers and banks alike. Our data-driven banking experts are available at any time to provide you with further information on multibanking!
This might also interest you